Network Distribution
We have distribution partners in 80 countries throughout the world, efficiently generating over $3 billion in sales annually for our global partners.
Network Distribution
For over ten years, GlobalWide Media has helped shape the performance marketing industry. Our performance network delivers high-quality traffic on a global scale through multiple digital media channels. We generate more than 5 million monthly conversions and $3 billion in sales annually for our advertising partners worldwide.
Our team of recognized experts in digital advertising offers world class service and is committed to efficiently scaling your business and maximizing ROI. Let us build and manage your online marketing program, reducing overhead and allowing you to focus on your core business.
Advertiser Benefits



Publisher Account Management
GlobalWide Media's experienced Account Managers provide customized campaigns for your distribution needs, while our in-house creative services ensure the most impactful advertising message. By partnering with GlobalWide Media and leveraging our exclusive, high performing campaigns, our publishers observe the greatest potential yield for their ad inventory.
We guarantee the most competitive payouts in the marketplace, and provide comprehensive tracking solutions.
Publisher Benefits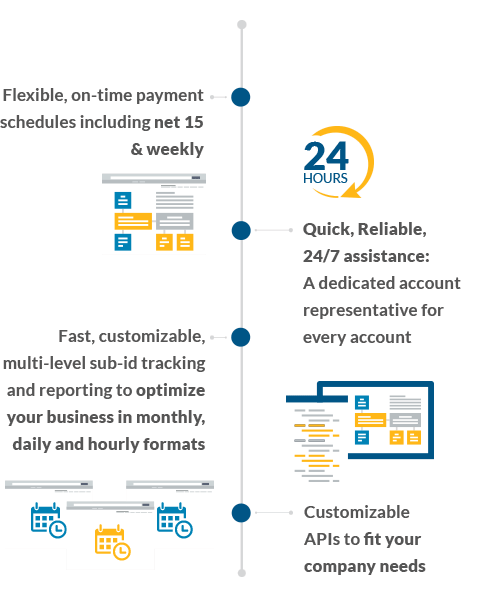 Mobile Marketing
GlobalWide Media has a comprehensive mobile marketing platform, offering advertisers, merchants and developers access to traffic that drives installs, calls, sales and leads.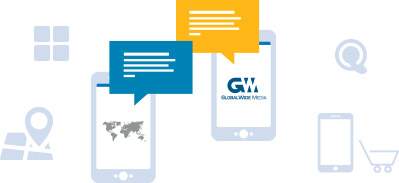 Global App Installs
GlobalWide Media will help you plan and execute performance-optimized app promotions to support your unique marketing objectives. Whether it's a transparent, brand-safe campaign or a promotional blast to rapidly grow your app install base, we can customize data-driven campaigns that will meet your business needs.
Pay-Per-Call
Connect with future customers via qualified incoming calls with an average call-to-conversion rate of 20-40% (compared to 1 - 3% with clicks). Customize how calls are handled and filtered, route calls based on geographic location, and get detailed real-time reporting to ensure your call center objectives are being met.
mCommerce
Mobile commerce is exploding worldwide, with 80% of all global online transactions expected to occur on a mobile device by the end of 2015. With cross-device capabilities, GlobalWide Media can drive users to your mobile optimized site or retail app to ensure no user is lost. Let us increase your mobile sales with a targeted approach that complements your current e-commerce promotions.
Direct Carrier Billing
With worldwide reach, GlobalWide Media has become a leader in the direct carrier billing vertical. Specializing in dating, gaming, and mobile content, our traffic can be targeted by carrier, device, and location to drive users who are ready to subscribe.
GlobalWide Media's Global Redirect Program enables publishers to maximize revenue potential by turning lost clicks into revenue. Our program works with your tracking software to monetize unsold traffic by matching it to the most appropriate campaign in real-time. Speak with your Affiliate Manager for more details.
Comprehensive global network that provides international reach to over 180 countries with local expertise
One of the most reputable and trusted performance networks with a decade of experience
Unique specialist publisher base consisting of 30,000 partners globally