Analytics & Measurement
GlobalWide Media's real-time optimization engine provides accurate predictions of user behavior, enabling us to intelligently invest media spend and exceed ROI goals.
Analytics & Measurement
Powered by predictive modeling, our analytics and measurement solutions incorporate industry-leading technology, enabling real-time optimization of campaigns. We possess an extensive data asset that empowers us with deep audience knowledge.
Our comprehensive Global Insights reporting suite delivers results relative to applicable key performance indicators, all while delivering clear, yet thorough post-campaign insights. The observations made available through Global Insights reporting are used to inform our optimization engine, making real-time, data-driven media decisions for your performance-focused campaigns.
Additionally, we can custom tailor reporting solutions to meet the unique needs of every advertiser.
Campaigns that Perform
Leverage real-time machine learning and cutting-edge model development to inform strategy and drive results. The superior predictive ability of our models is further enhanced by the domain-specific expertise of our seasoned analytics team.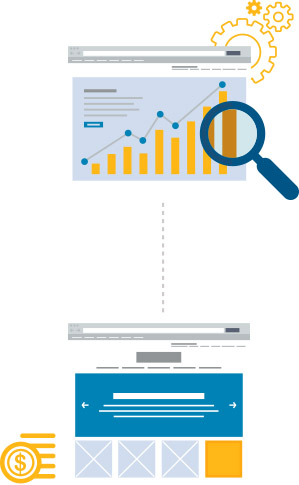 We equip our advertisers with sophisticated reporting across all relevant channels, measuring performance against any applicable KPIs, providing full context into campaign performance. The insights from past performance are leveraged in model tuning and refinement, determining the most effective means to message the target audience. We optimize our client's campaigns from day 1 by using all available data to determine the optimal "starting point" for new campaigns and initiatives.
Meaningful Reporting
We know data. We've been collecting consumer data across all digital channels for over 10 years. This data asset is the cornerstone of our advanced reporting suite, equipping our clients with the insights that matter.
GlobalWide Media Insights:
Cross device: media mix modeling, brand lift and direct response statistics
Comprehensive audience profiles, including demographic, geographic and consumer preference data
Brand performance: customer awareness, attitudes, intent and preference
Audience segmentation: creating models to isolate most responsive consumer segments
GRPs: measuring the reach and frequency of ads served to the target audience.
Unlock the value of your data by partnering with our expert analytics team.